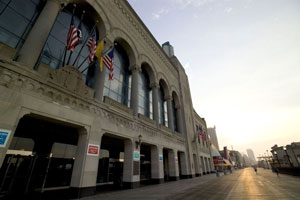 ABSECON LIGHTHOUSE - The third tallest lighthouse in the U.S. located at Absecon Inlet, Atlantic City, awaits you for climbing, educational programs and more.
ANIMAL SHELTER - Animals may be adopted by members of the public. The shelter offers educational programs. Schools and organizations are welcome to tour the facility and meet with the staff.
ATLANTIC CITY CASINOS - Atlantic City is currently home to 9 casinos, including Hard Rock and Ocean Resort which opened in June 2018.
ATLANTIC CITY, DO AC - Want to know where to stay, play, eat or party when visiting the Greater Atlantic City region? The DO AC web site includes a local calendar of events that lists up-coming entertainment and attractions, a getaway planner, deals and packages and much more.
ATLANTIC CITY AQUARIUM - Located in Historic Gardners Basin in Atlantic City that is also home to restaurants and a crafters' village. Historic Gardners Basin welcomes boaters by providing waterfront access.
ATLANTIC CITY BOARDWALK - Experience a piece of history by strolling the world famous Boardwalk. The perfect place to breathe in the salty ocean air while enjoying many famous attractions.
ATLANTIC CITY GOLF VACATIONS - Plan your golf getaway courtesy of the Greater AC Golf Association.
ATLANTIC CITY TOURISM DISTRICT - Includes information about the Master Plan, Special Improvement Division and Convention and Visitors Division.
ATLANTIC COUNTY PARK SYSTEM - Find out about County parks, camping, programs and more at the County Parks & Recreation Home Page.
PARKS AND FACILITIES - View descriptions and links for Atlantic Counties many parks and recreation facilites.
CAMPING INFORMATION - Information on Atlantic County camping facilities. Camping season runs April 1st to November 1st.
OTHER PARKS - Information on a number of other parks in Atlantic County that are either municipal, state or federal.
ATLANTIC COUNTY WINERY TRAIL - Explore Atlantic Counties world class wineries.
ATLANTIC COUNTY BREWERY TRAIL - Explore Atlantic Counties craft breweries and distilleries.
BEACHES - One of the county's greatest natural resources, beaches offer something for everyone.
BIKEWAY - Learn more about the development of Atlantic County's Bikeway.
BIKING IN NEW JERSEY: SHORE TOUR - Explore Atlantic County and beyond by bicycle.
BOY SCOUTS OF AMERICA - Boy Scouting is available to boys who are 11 through 17 years old.  The program achieves the BSA's objectives of developing character, citizenship, and personal fitness.
COUNTY LIBRARY -  includes 10 Branches, a Reading Center and a Bookmobile.
CHAMBERS OF COMMERCE - Contact area Chambers of Commerce or visit their web sites for more information about local attractions.
CULTURAL AND HERITAGE INFORMATION - Be sure to visit the web pages of our Office of Cultural and Heritage Affairs for a comprehensive listing of galleries, museums and much more.
CYCLING - find out more about bike trails in Atlantic County.
ECONOMIC DEVELOPMENT - News, events and more available at aceanj.com.
FISHING - Atlantic County offers many opportunities for fresh and saltwater fishing.
FIREARMS TRAINING FACILITY - Located in Egg Harbor Township, the heart of Atlantic County, Atlantic County Firearms Training Facility is a modern building providing a fun, friendly, & safe shooting place for you and your family to enjoy.
GIRL SCOUTS OF CENTRAL AND SOUTHERN NEW JERSEY - dedicated to encouraging all girls to reach their fullest potential in keeping with the values and ideals of the Girl Scout Promise and Law.
GOLF COURSE - John F. Gaffney Green Tree Golf Course. Home of one of the only par 6's in the Northeast!
HISTORY OF ATLANTIC COUNTY - Historical narrative of the county, famous people in Atlantic County history, sites, facts, more...
HISTORY RESOURCES - Reference guide featuring organizations, historical societies, museums and libraries located in Atlantic County.
NEW JERSEY CASINO CONTROL COMMISSION - The New Jersey Casino Control Commission is the panel charged with licensing New Jersey's casinos and its key employees. The Casino Control Commission promotes public confidence and trust in the credibility and integrity of the gaming industry. With proper regulatory controls, the industry serves as a catalyst to create dramatic economic benefits for Atlantic City as well as the entire State of New Jersey.
RECREATIONAL OPPORTUNITIES FOR INDIVIDUALS WITH DISABILITIES - A guide to low cost recreational and social programming for persons with disabilities.
VETERANS MUSEUM - Serves as a lasting tribute to our veterans and their families through the collection of military artifacts and personal memorabilia.
---
NOTE: This list of web sites is provided to assist residents and visitors. Atlantic County government does not endorse any site, company, or agency.