The Department of Human Services includes four Divisions: Meadowview Nursing Home, Support Services, Public Health and Intergenerational Services. The Office of the Department Head is located in Meadowview Nursing and Rehabilitation Center.
235 Dolphin Avenue
Northfield
New Jersey
08225
United States
+1 (609) 645-5930
+1 (609) 645-5904
Explore the Department of Human Services
The Department of Human Services includes the Meadowview Nursing and Rehabilitation Center, the Division of Public Health, the Division of Intergenerational Services, the Office of Support Services, and the Animal Shelter.
Intergenerational Services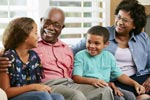 The Division of Intergenerational Services plans for and provides services to assist senior citizens, troubled youths and families, and residents challenged with physical and mental disabilities. The Division was created to ensure that the critical human service issues for these populations are addressed within the context of intergenerational recognition. Key elements of this initiative include cross generational planning and programming, local community involvement, at risk assessment strategies and cooperative shared services. This Division provides information and referrals for human service providers through its toll free call center at 1-888-426-9243 (in-county). If you are calling from outside Atlantic County, please dial (609) 645-5965.
Public Health
The Division of Public Health is a unit of the Department of Human Services. Its core mission is to promote health and prevent disease. Consistent with its core mission, the Division has focused increasingly on its ability to plan for and respond to incidents of bioterrorism and other public health emergencies. This function is in response to federal and state initiatives to have local agencies be more involved in potential threats to its communities. The Division provides regional public health services to all of the municipalities in Atlantic County. The Division is funded through a separate Public Health Tax and provides services in accordance with state statutes. All units are also partially funded through State grants and user fees.
Office of Support Services
The Office of Support Services administers the ordering, receipt, storage, distribution, and financial accounting for all supplies commonly used to support the operation of County government. This unit also prepares and delivers bulk meals, nearly 2,000 per day, for County facilities, contract agencies and the Home Delivered Meals Program. Inter office courier services are provided for all County agencies and centralized United States mail distribution and processing is provided for County departments in Northfield.
Meadowview Nursing and Rehabilitation Center
The Meadowview Nursing and Rehabilitation Center is a state licensed facility with accommodations for 180 residents, providing high quality nursing home care around the clock. The entire facility is certified for participation in both the Medicaid and Medicare programs. Services include comprehensive medical, dental, mental, therapeutic, rehabilitative, recreational, social, and dietary services.
Back to Top