Boat Registration Applications:
High Power
(over 9.9 horsepower)
Low Power
(9.9 horsepower and under)
Lake Lenape
Any boat with a motor must apply for a yearly permit which is $5. High and Low power boat registration applications are available here. You may print this out, complete it and bring it with you to the Lake Lenape park office.
If your boat is over 9.9 horsepower, you must supply: $500,000 liability insurance, boat registration, boater endorsement on the driver license, and safety gear for the particular class of boat.

NOTE: When presenting proof of insurance, you must show a certificate of insurance and County of Atlantic, 1333 Atlantic Ave., Atlantic City, NJ 08401 must be named as the certificate holder. The certificate must list the boat covered and certain other specific information. Once these are presented to (and approved by), you will be given a yearly permit.
Boats that are under 9.9 horsepower must show the boat registration card and boat operator's license.
Wild and Scenic Access for Small Vessels - For kayak, canoe and small vessel owners.
---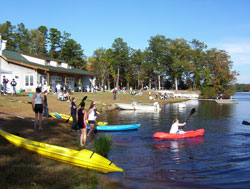 Guidelines for Safe and Enjoyable Boating
All boating on Lake Lenape occurs from 7:30 am till ½ hour after sunset.
Daily sunset times are posted at the Lenape Boat Ramp or may be obtained by calling (609) 625-8219.
All boats wishing to launch must check in at the Lenape Reservation Office before entry.
All questions involving boating on Lake Lenape should be referred to the Lenape Reservation Office at (609) 625-8219.
Any operator of a vessel that is motorized in anyway must have a valid boaters endorsement to operate on Lake Lenape.
All boats with a motor must be registered with motor vehicles.
All boats must possess the proper safety equipment for their classification of vessel.
The maximum speed on any boat shall not exceed 40 MPH.
No powerboat shall operate with in 200 yards of any swimming area.
No person shall operate any vessel in a reckless or negligent manner. Boaters shall obey the directions of Park Rangers or additional Enforcement Representative at all times.
All Vessels are subjected to the US Coast Guard rules "OF THE ROAD".
No swimming or diving from boats.
Parasailing and operation of a personal water craft are prohibited.
No alcohol is permitted on County Park property including those lands owned by Atlantic County covered by water (i.e. Lake Lenape).
We limit access of boats with over 9.9 horsepower to "Eight Boats" at any given time.
All boat operators must provide proof of completion of an accepted Safe Boating Course. To assure compliance with this Statewide regulation please refer to NJ State Police Boat Safety Manual.