Important Documents
Print/Download
Entries will be accepted at the Atlantic County Library/Ventnor , 6500 Atlantic Avenue from Monday, May 15th and Tuesday, May 16th 10:00 am and 3:30 pm. There will be no exception to this time frame. One entry ONLY per artist. Each entry is required to fill out an artwork label that must accompany the artwork. Please follow the eligibility guidelines below.
The Atlantic County Senior Citizens Art Show will will be held at the Atlantic County Ventnor City Library, 6500 Atlantic Avenue, Ventnor City and your art work will be shown beginning May 22nd through June 15th.
A monetary prize of $100 will be presented to each first place winner from the Atlantic County Division of Intergenerational Services. Award ribbons will be presented for first place through honorable mention as determined by the judges.
For more information call Cindy McNellis at (609) 645-7700, ext. 4347
2023 Eligibility Guidelines
Atlantic County/NJ State Senior Citizens Annual Juried Art Contest & Exhibition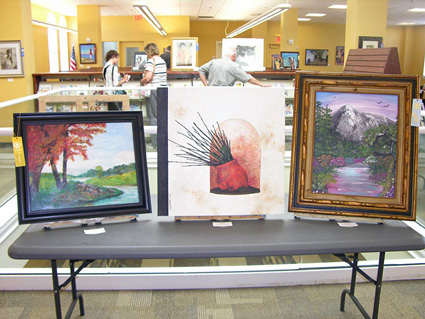 ELIGIBILITY:
County: Any artist, age 60 or over, currently residing in Atlantic County, New Jersey, may submit artwork completed within the three years immediately prior to his or her County Senior Art Show. Artists may enter in only one County show.
Entries may not have been previously entered in prior County Senior Art Shows or in the New Jersey Senior Citizens Art Show.
Only ONE ENTRY per artist may be entered.
State: Artwork that has won First Place at 2023 County Senior Citizen Art Shows are automatically eligible to advance to the New Jersey Senior Art Show.
Entries must have been created since April 2020, and cannot have been shown in any past NJ Senior Citizen Art Shows.
Only County Coordinators may submit work from their County show to the State Senior Art Show. Artists may not submit work directly to the State Show. Participating Counties may submit one professional and onenon-professional entry in each of the following 11 categories may be entered: acrylic, craft, digital art, mixed media, oil, pastel, photography, print, sculpture, watercolor, and works on paper (drawing, etc.). Only the first place winners from County shows are accepted for the State Show.
Optimally, there should be at least 2-3 entries (on the County level) for a first place winner to be selected in that category. However, if there is only a SINGLE entry in a category, it is the County Juror's discretion to award First Place (if that Juror judges the work as deserving to represent the County at the State Show) or to award an Honorable Mention.
View the COMPLETE ELIGIBILITY GUIDELINES