The Devil Today
Since the early industrial days of iron ore, southern New Jersey has seen some remarkable activity. Glass and paper manufacturing have expanded. Military complexes have been developed at Maguire Air Force Base and Fort Dix. Atlantic City and the Jersey shore have become prominent resort communities. This growth and development coupled with the emergence of a well-lit highway system have caused the Devil's appearances to be less frequent. But the legend of the Jersey Devil will not die. He has been exorcised, electrocuted, shot, incinerated, declared officially dead and declared officially foolish.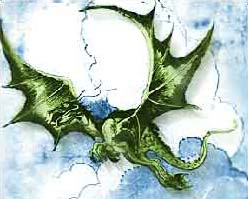 In 1939, the New Jersey Devil was reportedly named the Official State Demon. Walter Edge, twice governor of the state, was quoted as saying: "When I was a boy. . . I was never threatened with the bogey man. . . we were threatened with the Jersey Devil, morning noon, and night." Periodic sightings and theories will probably continue for generations to come. Or at least until the Jersey Devil emerges from the mists of the Pine Barrens himself to tell us his own story.
Bibliography
Cohen, David Steven. The Folklore and Folklife of New Jersey. New Brunswick, NJ: Rutgers Univ. Press, 1983.
McCloy, James F. and Miller, Roy Jr. The Jersey Devil. Wallingford, PA: Middle Atlantic Press, 1976.
Yarvis, Joel and Callahan, Michael. "Devil's Advocate". New Jersey Monthly. June 1996. Vol. 21, Issue 6, p. 13.
Gilmore, Christopher C. and Nikosey, Tom. "The Devil Among Us". New Jersey Monthly. Sept. 1996, Vol. 21, Issue 9, p. 67.
Crossroads. Newark, NJ: New Jersey Historical Society. Vol. X, No. 4, 1973. p1-4.
"Leeds Devil". South Jersey Republican. January 30, 1909.
"Better lighting, roads banished Jersey Devil". Atlantic City Press, 10 Feb. 1957, p. 10.
"The Jersey Devil: some swear by him; others swear at him". Philadelphia Bulletin. 2 Dec. 1979, p. 1.
Renner, Craig J. "Mother Leeds Curse". World & I. Nov. 1995, Vol. 10, Issue 11, p. 202.
New Jersey – Guide to its present and past. Federal Writers Project. New York: Hastings House, 1939.
Mann-Melnitchenko, Helen. "A Haunted Place". House Beautiful. Nov. 1994, Vol. 136, Issues 11, p. 20.
Maloney, E. Burke. "The Jersey Devil—Anybody seen him?" Atlantic City Press, 12 Nov. 1967.
Weiss, Harry B. and Weiss, Grace M. Some Early Industries of New Jersey. Trenton, NJ: New Jersey Agricultural Society. 1965.