The Atlantic County Office of Geographic Information Systems provides both interactive and static maps of Atlantic County through this website.
Rt. 9 and Dolphin Ave.
Northfield
New Jersey
08225
United States
+1 (609) 645-5898
+1 (609) 645-5836
Municipal Roadway Maps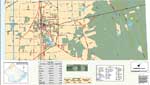 Street maps for each municipality that include address ranges, demographic and various statistics. County properties and points of interest are also available for each municipality.
Back to Top