Atlantic County Department of Family and Community Development is an umbrella organization dedicated to the well being of all citizens of the county.
1333 Atlantic Avenue
Atlantic City
New Jersey
08401
United States
+1 (609) 348-3001
General Assistance
GA COVID Updates
Until further notice all residents resident of Atlantic County must complete applications online at www.NJhelps.org. When applying be sure to click the General Assistance Box. Only phone Interviews are being conducted at this time. There are no in-person, face-to-face interviews. All Information Packets will be mailed and the first two (2) months of SNAP Benefits will be provided immediately. Once interviews are completed and the required signature forms and documents are returned, a determination of eligibility will be made regarding General Assistance benefits and the continuation of SNAP benefits.
During the current public health crisis, your case will not be closed if you are unable to participate in a work activity. This includes if you are a General Assistance (GA) client completing the 28-day work activity while your case is being reviewed.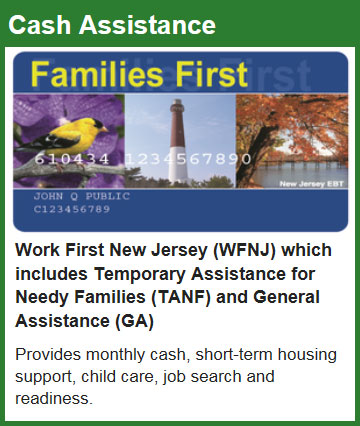 Provides cash assistance to individuals and couples without children who reside in any Atlantic County municipality and meet income, employment and other criteria. Applications can be completed online at www.NJhelps.org.
Atlantic County Office Building, 1333 Atlantic Avenue, Atlantic City, Monday - Friday, 8:30 AM to 4:30 PM
Back to Top