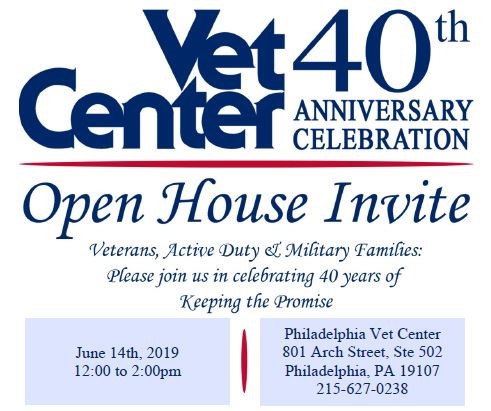 NOTE: Event has already taken place.
Vet Center 40th Anniversary Celebration

(Friday, June 14, 2019 at 12:00 PM - 2:00 PM)
Location: Philadelphia Vet Center
801 Arch St., Suite 502
Philadelphia, PA19107
Join us for an open house to celebrate our 40th Anniversary. Light refreshments will be served. Please RSVP to Edward.McEvoy@va.gov
Veterans, Active Duty and Military Familes: Please join us in celebrating 40 years of Keeping the Promise.
Sponsored by: Center City Vet Center Visit their website: www.vetcenter.va.gov
For more information please contact Edward McEvoy at (215) 627-0238.