Have You Lost A Pet?
The Atlantic County Animal Shelter offers the following tips to help you reunite with your pet.
What To Do If You Lose Your Pet
Get the word out. Don't assume your pet will return on its own in a few hours. As soon as you become aware that your pet is missing begin to do the following:
Contact the Atlantic County Animal Shelter at (609) 485-2345. We can help you file a lost pet report with a detailed description of your pet. You can e-mail a picture of your lost pet to: petruzzi_terry@aclink.org. Visit the shelter within the first week that your pet goes missing. We will escort you through the dog and cat rooms to see if your pet is at the shelter. If your pet was picked-up by Animal Control, it will be brought to the Atlantic County Animal Shelter, located at 240 Old Turnpike Road, Pleasantville. All persons reclaiming a lost pet must provide identification for themselves and their pet.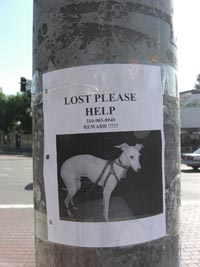 Advertise. Post flyers at grocery stores, community centers, veterinary offices, traffic intersections, pet supply stores and other locations. Also, place advertisements in newspapers and with radio stations. Include your pet's sex, age, weight, breed, color and any special markings. When describing your pet, leave out one identifying characteristic and ask the person who finds your pet to describe it. You can reach the Press of Atlantic City's classified department by calling (609) 646-7500, and they will run your lost pet ad FREE of charge for 7 days.
Be wary of pet-recovery scams. When talking to a stranger who claims to have found your pet, ask him to describe the pet thoroughly before you offer any information. If he does not include the identifying characteristic you left out of the advertisements, he may not really have your pet. Be particularly wary of people who insist that you give or wire them money for the return of your pet.
Don't give up your search. Dogs and cats often wander far away and do things you wouldn't predict they would do. Try everything, look everywhere and tell everyone. Animals who have been lost for months have been reunited with their owners.

A pet, even one that stays indoors, has a better chance of being returned if it wears a collar and an ID tag with your name, address, and telephone number. Free identification tags are available at the Atlantic County Animal Shelter.
Local Resources*
Animal Control of South Jersey
(609) 804-1366
Serving Absecon, Atlantic City, Brigantine, Egg Harbor Township, Linwood, Margate, Northfield, Pleasantville, Somers Point and Ventnor
Animal Control & Capture Services
(609) 296-0675
Serving Corbin Ciy, Galloway Township, Hammonton, Weymouth & Mullica Township
Tri-County Animal Control
1-800-992-7387
Serving Buena Vista Township, Estell Manor, Folsom/Collings Lakes, Hamilton Township and Egg Harbor City
Shore Animal Control
1-800-351-1822
Serving Buena Boro
Atlantic County SPCA (Cruelty & Neglect)
(609) 927-9059
Serving all of Atlantic County
Wildlife Aid/Rehabilitation
(609) 927-0538
Serving Atlantic County
Woodford Cedar Run Wildlife & Bird Refuge
856-983-3329 Ext. 2
4 Sawmill Road, Medford, NJ 08055 (Will accept wildlife from Atlantic County.)
24 Hour Emergency Veterinary Service
Red Bank Veterinary Hospital – Linwood
(609) 926-5300
535 Maple Avenue, Linwood
*The local resources and Web sites identified on this page are provided as available resources, but their inclusion is not considered an endorsement by Atlantic County government.