Wednesday, November 17, 2004
Atlantic County Announces Farmland Preservation Contract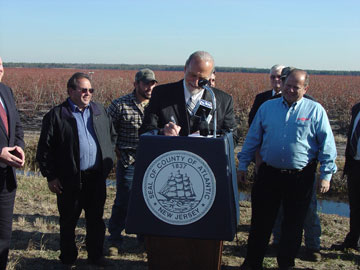 Atlantic County Executive Dennis Levinson today signed an agreement to preserve 1,448 acres of Atlantic Blueberry Company in Hamilton Township under the state's Farmland Preservation Program. This will be the largest farm to enter the program to date.

Farms that are preserved through the Farmland Preservation Program are forever protected for agriculture use. Participating landowners agree to sell their development rights but maintain ownership.

"Atlantic Blueberry Company has agreed to preserve its farmland for the benefit of future generations and our region's agricultural heritage," said Levinson. "It is rewarding to know that our descendants will share our enjoyment of this valuable resource."

Levinson was joined by Agriculture Secretary Charles M. Kuperus. Kuperus chairs the State Agriculture Development Committee that administers the Farmland Preservation Program. Atlantic Blueberry is being preserved through the SADC's Pinelands County Easement Purchase Program. The farm's owners, the Galletta family, will receive $2,462, 278 for the sale of the farm's development rights with approximately 75 percent of the funding coming from a SADC grant and the remainder from the Atlantic County Open Space Trust Fund.

"This farm is important not only because it will be the largest under the Farmland Preservation Program, but because of all it contributes to the unique agriculture of the Pinelands region, to the economy and to the quality of life we all enjoy," said Secretary Kuperus. "It's critical we preserve our productive blueberry acreage. We all know nothing beats the taste of Jersey-grown blueberries. We're pleased to partner with Atlantic County in the preservation of this farm and look forward to welcoming it into the Farmland Preservation Program."

The Atlantic Blueberry Company includes 1,300 acres in blueberry production, billed by its owners as the world's largest such operation. It produces an average of one million flats, or 9 million pounds, of blueberries each year and employs more than 1,000 people in season.

Atlantic Blueberry Company joins five other Atlantic County farms that have signed agreements of sale, representing more than 2,100 acres designated for farmland preservation within the county. They include: Columbia Properties in Mullica Township and Hammonton, 38.8 acres; County Line Blueberry in Hammonton, 120.03 acres; Variety Farms, Inc. in Mullica Township, 413.59 acres; the Berenato property in Hammonton, 62.06 acres; and Indian Brand Farms in Hammonton, 63.81 acres. County officials are presently working with additional landowners for further acreage.

"Farmland preservation is important to our quality of life," concluded Levinson. "It helps to offset rapid development in our growth communities and protect the farming industry that has earned us the reputation as the Garden State."

For more information, please contact Howard J. Kyle, Chief of Staff, at (609) 343-2223.